Luxurious Shea with Vitamin E Cream
Our men's Bamboo Touch 'Drench-to-Dry' sleepwear has been specially designed to help alleviate issues caused by night-time body drenches, so you can be better rested.
A stand-up collar to help keep the neck area dry and warm
Two front pockets for keeping essentials close at hand
A double yoke at the shoulder, front and back, to allow for double the amount of moisture retention
Large buttons for easy fastening
Comfort elastic in the waist
Extra ease incorporated into the garment
Ultra-absorbent Bamboo Touch material
We have hundreds of 5 Star Reviews
"It has changed my life - not being disturbed during the night. Helps sleep pattern. Loved the pockets! I look forward to putting them on at night"
"Very comfortable and soft and no more changing bed linen or pj's at night. They are a lifesaver!"
"This product has given me much more restful sleeps. In terms of 'quality of life' this cannot be overemphasized"
"I have found them cosy and very comfortable to wear. I would recommend them highly to anyone undergoing cancer treatment"
Sleepwear designed by someone living with cancer, for people living with cancer
Watch the one minute video below
Bamboo Touch sleepwear features:
Unlike other sleepwear on the market, Bamboo Touch has been uniquely designed for ultimate comfort and absorbency to help combat hyperhidrosis.
A few years back, Pauline Birse - a textile designer with a manufacturing background from Selkirk - went through the dreadful experience of living with cancer, and the resulting cold drenching night sweats.
What's more, she decided to do something about it - which is when she initially approached Lavender Touch with her idea.
This is her story.
"I would wake up in the middle of the night absolutely frozen with dripping wet pyjamas stuck to my entire body. When this occurred, probably 5 - 6 times a night, due to the side effects of my chemotherapy, I wasn't able to get out of bed, change my pyjamas and the sheets as well. I then ended up lying in soaking wet pyjamas and a soaking wet bed (normally crying), waiting until I dried off.
Personally, I feel that nobody can possibly understand the extent of trauma that these side effects can have on people's lives. When I said 'cold sweat', people would suggest putting on a jumper! The reality of a cold sweat is a constantly frozen neck, constantly frozen bald head, and every half hour it feels like standing in snow naked. Added to that, your whole body is coated with cold liquid normally running down your back.
Water starts appearing on cuffs due to it pouring out of your armpits and flowing down your hands. It drips off your head down to your brow and into your eyes, because you have no eyebrows. I would never have imagined the trauma of going to bed every night until I experienced it for myself. Doctors, nurses and cancer specialists do agree that the chemotherapy sweats and cold are unavoidable in some people."
After three years in development, Pauline was finally happy that her tried-and-tested, natural sleepwear could let people living with cancer get a good night's sleep.
Used in Scotland In The NHS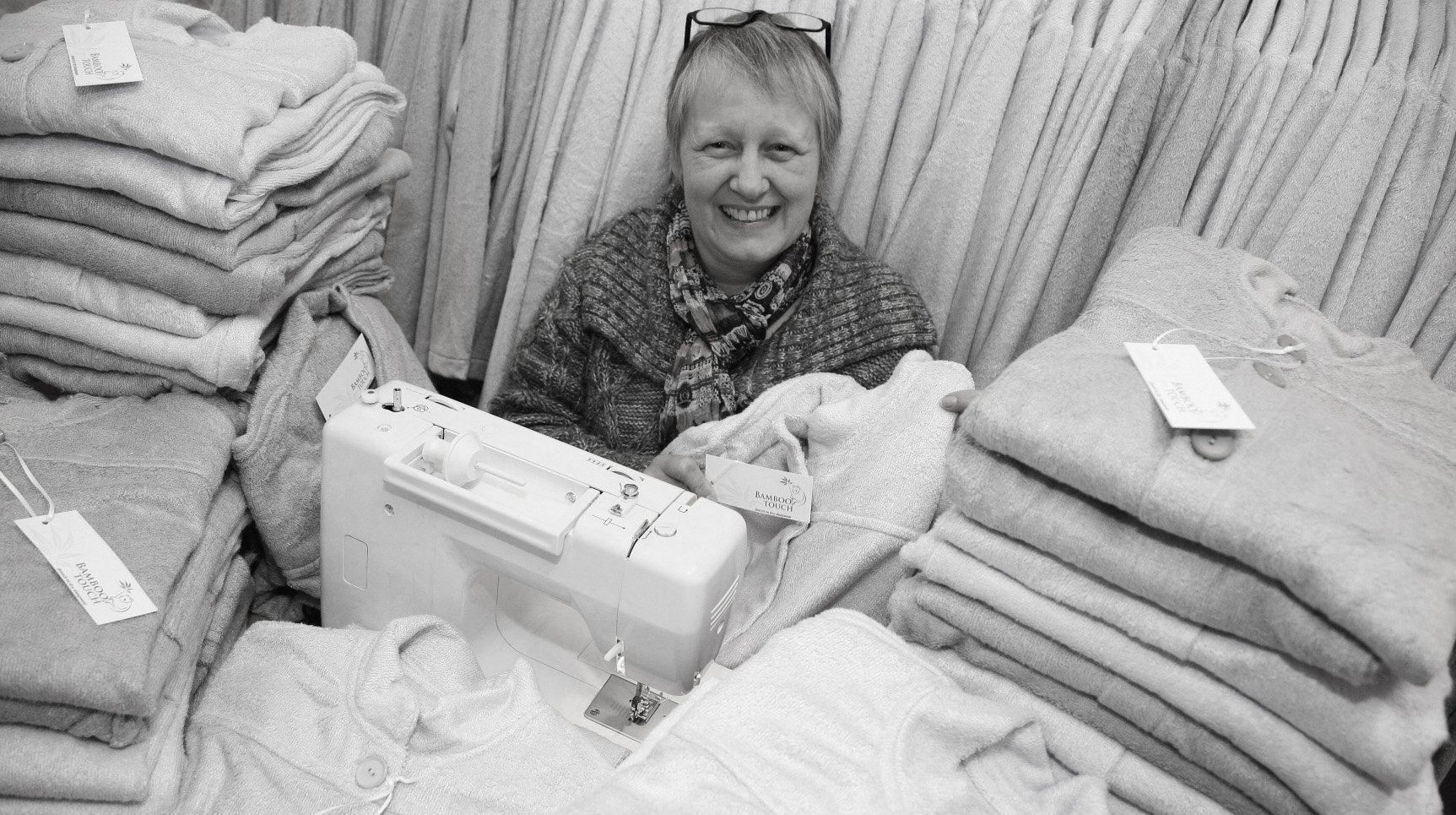 Our Story...
Bamboo touch Drench to dry sleepwear has a very simple aim to help the lives of those who suffer from the deliberating night sweats
this product has been developed by experienced textile designer Pauline, used her own personal experience as a cancer patient to create something that is genuinely life-changing
Our sleepwear has been designed to help those who suffer from Night drenching by absorbing excess liquid from the skin while still helping the body warm. We are very proud that our garments are making such a massive difference to those living with cancer and their partners.
As a charity this is more than profit initiative which means we are here to support those living with cancer and all profits go back directed to fund the good work of the lavender touch charity.
Frequently Asked Questions
Click '+' to see answer
Can I buy the tops or trousers separately?
Sorry no. This is due to the reason of their design/purpose. For someone experiencing the medical conditions causing such drenching sweats, water on the body will run from the head down the body so the garment (top and bottom) should be worn in order to absorb the sweat and keep the entire body comfortable. This is also why it has long sleeves as well as a stand up collar.
Do you have any other styles or colours?
We have only one style that is suitable for both male and female. Its design is specifically as a medical garment, to help with absorbing drenching in the body, rather than for fashion. We have a limited stock of grey if you want to contact us.
My sleepwear isn't working as well as it did. Why?
The sleepwear must be washed on a frequent basis, (after severe night drenches – wash it daily). This is very important in order to keep the high quality bamboo material in an absorbent state. The same can happen if the sleepwear has been folded away for a long time, unused. We have to store our stock on hangers and not folded for this reason. It is worth considering washing the product prior to first wear
How should the sleepwear be washed?
Do not, under any circumstances, use fabric conditioner when you wash Bamboo Touch.Product can be tumbled dried at a low heat.
Your product is expensive, as I see other cheaper versions elsewhere, including night dresses, why?
We are a non profit organisation who developed this product using input and designs from those experiencing this drenching side effect of illness. It has therefor been made using high quality bamboo with specific design of long sleeves, high collar and as a pyjama set only. This quality and coverage of the body is what gives the wearer a more comfortable and drier sleep. Any money coming from the sale of these items goes directly back into the cancer charity we run.
I am a menopausal woman, will these work for me?
Bamboo Touch was not designed to help with hot sweats, associated with the menopause, however if your sweats are extreme, in that they cause your bedding to have to be changed several times a night causing distress to yourself and a partner, they may work for you.
Is your sleepwear only for people with cancer?
No. Originally produced by us for people living with cancer, we are very aware of many other medical conditions that can cause extreme drenching sweats in the night, and that benefit from the use of this product. The condition can sometimes be referred to as Hyperhydrosis and can be experienced by people living with Parkinsons, TB, Thyroid problems, Infections, Leukemia, Lymphomas, Mesothelioma, and other cancers.
How long does an order take to come to me as I need them urgently?
The Bamboo Touch sleepwear gets dispatched, on most occasions, the day we receive the order from you. We know how people suffer with this condition so we do our utmost. However we are a small charity and run with volunteers, so its dependant on them processing the orders quickly. In most cases it will come out within just 2 or 3 days to you.
Luxurious Shea with Vitamin E Cream
Our men's Bamboo Touch 'Drench-to-Dry' sleepwear has been specially designed to help alleviate issues caused by night-time body drenches, so you can be better rested.
A stand-up collar to help keep the neck area dry and warm
Two front pockets for keeping essentials close at hand
A double yoke at the shoulder, front and back, to allow for double the amount of moisture retention
Large buttons for easy fastening
Comfort elastic in the waist
Extra ease incorporated into the garment
Ultra-absorbent Bamboo Touch material